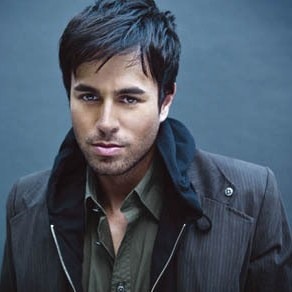 Do you want to recreate the hairstyle of Enrique Iglesias in his video "Like"? With good advice and good products… anything is possible!
And then right now medium length hair style is very trendy and good in early fall, plus it will keep you warm in winter!
However, before choosing your haircut you have to think about taking into account some very important aspects, such as the shape of your face. A cut that will look good on one may not look as good on another.
The shape of the face is the basis that determines the haircut that best suits your «look», it is also if you decide to leave a mustache, beard or even sideburns. The same happens with the choice of your clothes or the color of these that must be in harmony with the complexion of your face.
For the cut that interests us today, that of Enrique Iglesias, you should know that it is not suitable for all types of faces (especially round or triangular) but it is perfect for faces with square to oval shapes, good news, these are the shapes of face more common in men!
The cut that best suits men with a more "square" face, who by definition have fewer cutting options than those with an oval face, is a slightly longer cut that highlights and enhances this face shape. This length counteracts this «square» aspect, the face will appear «thicker» at the level of the lower jaw and the chin, more harmonious! Therefore, medium length hair is suitable if styled to add definition to the face.
Going back to the Enrique Iglesias cut, you'll need the hair to be longer on top (reaching eye level when wet) and slightly shorter on the sides. The cut must be clean and well defined at the ears and the nape of the neck. For the upper part of the scalp, it is preferable to thin the hair with a razor, for example, rather than scissors to create a less «defined» look.
To style the hair, it will first be necessary to dry it by taking it in the direction of the cut, but be careful not to «flatten» it too much in order to maintain a minimum volume, even if this volume can be worked with a styling cream afterwards.
Once the hair is dry and the cut shape is in place, simply apply your styling product, using your fingertips, strand by strand. To help you, I have selected the 3 most suitable products. They will help you easily get the cut of this handsome Enrique Iglesias at home:
> Are you looking for a very bright effect like in his "I Like It" clip?
I Prefer Gum Gooch – Stock & Barrel Lock ,
> Are you looking for better hair fixation and a well-structured effect?
You have the option between the Texturizing Paste Substance – MiN New York
where the Hair Putty gel texture and control – Flint Edge which meet these requirements.
Finally, keep in mind that when choosing a haircut that suits your face shape, it is also important to take into account other factors such as the shape, size and characteristics of your nose, the presence of a beard, goatee or mustache and type. and condition of your hair as well as the length of your neck.
Choosing the right hairstyle for your face shape and other distinctive features can be a daunting task. If you have doubts, do not hesitate to ask your hairdresser for advice . Get ready to consider all your hair color and length options!
It is in the search that one finds his style!
• Find these 3 products in the "Hair – Styling" category at the darkly handsome men's grooming expert