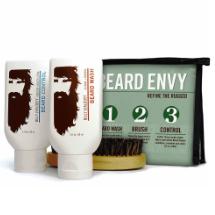 If there are news that we like to discover, Billy Jealousy decided to hit hard ! Cultivating the art of creating tailored outfits according to current trends, as it knows how to do, the brand has decided to navigate fashion for the «Hipster» look. You know, that urban and trendy style that gives a privileged place to the beard that draws your face!
If you have also taken the step: goatee, necklace, goatee, lumberjack beard, you know that this aspect, although it may seem so, is the subject of strict study. Indeed, nothing is neglected and even the most spectacular beards that can be glimpsed in some are actually the fruit of long work in the bathroom …
First the cut. Depending on the density of each person's hair, the ease of handling the razor and the desired style, no one should neglect the effort required to obtain a result that meets our visual expectations. While some have rediscovered the trade of the barbershop and the few homonymous salons that are beginning to open in the big cities, others, on the other hand, trust in their own skill… and in their patience! Do not be discouraged if you are inclined to want to join the group of bearded men. The advantage of the exercise: you have the right to be wrong because, in fact, the hairs… grow back!
Once the last scissor is done, you will need to maintain and care for it. Why ? Just like your skin and hair, the beard is a living thing. Yes Yes…
That is why the famous Dallas brand created the Beard Envy kit, a bestseller already awarded by the American magazine Men's Health who gave it victory in its 2014 Grooming Awards !
But, what is behind this turnkey beard pack?
The kit contains 3 products:
– The Beard Wash : a cleanser rich in Aloe, soy protein and honey extract. Its purpose is to clean and above all leave your beard silky and untangled.
– Beard Control : a treatment designed to style and smooth the beard. Its soft and subtle formulation, rich in Jojoba oil, gives hair definition and a slight shine for a very natural look.
– A real boar bristle brush (just that!). It is the ultimate tool for a smooth and well-defined beard.
And if you don't have a beard, you may have found the next original gift idea!
The Beard Envy Kit is on sale at DH Cosmetics
(Also available individually or 236 ml refill)