To camouflage dark circles with a bluish appearance or simply reduce signs of tiredness, concealer is probably the most used by men.
Very soon, the eye area shows the first problems, more so than the rest of the face. This is the most fragile part and the most sensitive to aging of the skin. If the complexion can easily appear fresher with judicious cleansing and moisturizing, the eye area requires a special approach.
A concealer (or concealer) is similar to concealer but is used more to conceal imperfections all over the face (pimples, redness, etc.). They are often confused despite having different textures. A concealer has richer pigmentation and more coverage, while a concealer will be much lighter!
Presented in solid stick or liquid form , the concealer can generally be applied in 2 ways . As we show you in the following image, you can deposit a bit of material in small touches, without forgetting the corner of the eye, forming a triangle whose base would be at the top and the vertex at the bottom.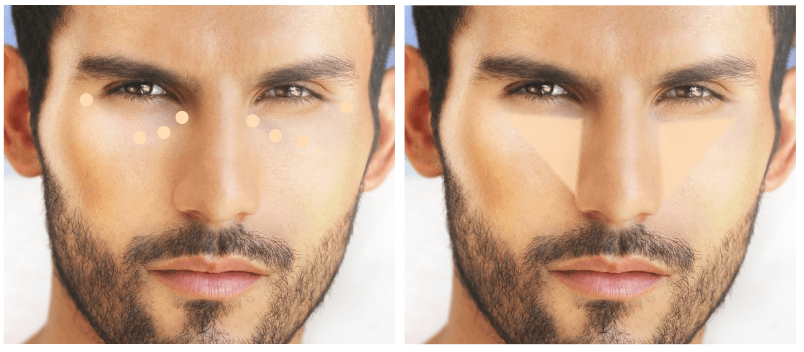 Men looking for a discreet, natural result, or who have inconspicuous dark circles, will prefer a touch-up application. To be more pragmatic, here's
How to use your concealer for men

:
1 – Choose a slightly lighter shade like the color of your skin, to illuminate the eye contour
2 – Moisturize your epidermis with a specific cream for the eye contour area, then leave it to act for 1 minute
3 – Apply your concealer directly to the affected area of ​​the lower eye contour. It is useless to put it on the index finger to apply it later under the eyes
4 – Use your fingers to melt the material with light taps, until it blends perfectly with your skin tone
For gentlemen who use makeup base, or a colored fluid to unify the face, the order of application is quite simple. Although few women really know him. If your concealer is a stick, you should apply it before your foundation. If it is liquid, it is applied after the foundation.
From time to time, of course, it can also be used to camouflage a small pimple or localized redness.
You can find much more information about men's skin care and makeup at parahombre.top