The Italian Proraso range offers metal boxes designed to meet the shaving needs of men.
Beyond the traditional range, a series of 3 themes that we wanted to present to you have been grouped in beautiful metal boxes . It is ideal as a gift or just for fun.
If you want to discover the benefits of Proraso, there is a good chance that you will find your happiness among one of the 3 boxes. proposed long format .
Formulated without parabens, this trio of treatments with an original dated touch and energetic notes of Eucalyptus and Menthol offers a 100ml pre-shave treatment in a glass jar to reduce irritation and make shaving easier. A shaving cream in a tube as well as a 100ml after shave lotion in its glass jar, to prevent future redness and adequately hydrate the epidermis.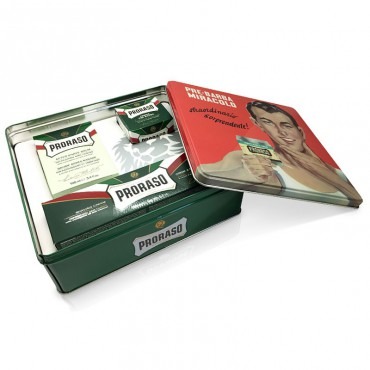 This set is really dedicated to men with sensitive skin for whom the moment of shaving is always full of pain or excessive irritation. Rich in Aloe and Green Tea, its soft and soothing composition will help better control skin reactions in sensitive skin. We love the sweet fragrances of apple and lime…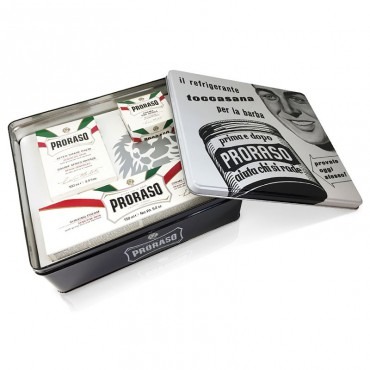 For beards more or less difficult to shave, this set is dedicated to you! Composed, like the other metal boxes, of a sound pre-shave, a shaving cream in a tube, as well as an aftershave balm, there is no doubt that Shea Butter and Sandalwood , beyond their respective fragrances, They will soften the hair. The nourishing ingredients in the formulation of this range add a real plus to your beauty routine!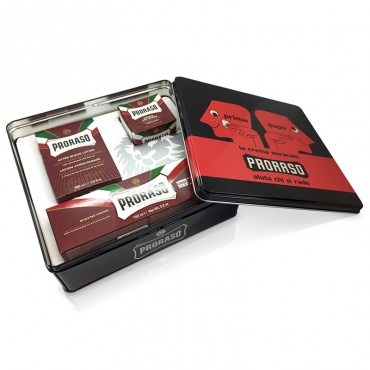 These «large format» boxes from Proraso are available online at a price of 29.90 euros for a value for money that will make more than one fall in love!
Photo credits: DH Cosmetics (Proraso) – Yanalya (Freepik)